A Brief History of the Rosary Cemetery
The Rosary was the first non-denominational cemetery in England. It was laid out in 1819 on five acres of a former market garden and the first burial took place in 1821. The founder was Thomas Drummond a retired non - conformist clergyman who wanted a cemetery where anybody could be buried with the service of their creed and the minister of their choice.
The first burial in November 1821 was the re-interment of of Ann Drummond, wife of the founder, who had died two years earlier and had been buried at the The Octagon Chapel in Norwich. After his death in 1852 Drummond was buried in the same plot as his wife.
There were few burials in the early years and despite two cholera outbreaks in Norwich it was not until 1850 that the number of burials increased to over 100 per year. Although the slow take-up of space was disappointing for Drummond it left a legacy of a unique burial ground still in the form it was originally laid out in. Although it was not laid out on such an ambitious scale as other early cemeteries, such as Kensal Green or Highgate, the Rosary contains a variety of fine monuments with some fascinating symbolism. Today the whole site is Grade ll* listed under The Historic Buildings and Ancient Monuments Act.
Initially the Rosary was operated by a private company whose shareholders were Norwich business people. In 1841 Drummond established a trust to run the cemetery, which managed the Rosary for the next 100 years until it was handed over to Norwich City Council in 1954.
By 1900 the original cemetery was filling up and in 1933 the trustees purchased 8 acres of land adjoining Telegraph Lane East. The Rosary is still used for burials, which take place mostly in the upper cemetery, although there are occasionally still burials in the lower part. The chapel is available for burial services but the majority of services take place elsewhere, prior to interment in the Rosary.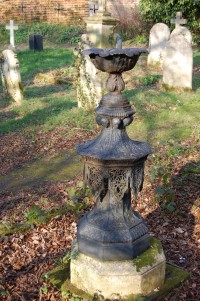 HINES FAMILY MEMORIAL
This unusual cast iron memorial , surmounted by a bird bath marks the grave of seven members of the Hines family, from Charles in 1863 to Susan in 1933. The miniature heads fixed to it are reputedly those of the family members buries there. The Hines family ran an iron founding business in St. Margaret's Street which was demolished in 2002 and replaced by a housing development named Hines Court.